Investing in measurable impact is a core value of Social Venture Partners. This is why we fund programs like Catchafire that enable nonprofits to do more, and to increase their skill levels.
As of today, nonprofits across the region have received $1,663,749 in value from pro-bono professionals who volunteer their time on the Catchafire portal. This is thanks to a collaborative of funders in San Antonio that provide annual subscriptions to the service.
"We have a lot of data to demonstrate impact – the value and type of projects help inform us about where pain points are with our local organizations," Becky Dinnin, Executive Director said.
Nonprofit staff and volunteers can get help on Catchafire.org with fundraising, graphics, translations, HR, strategic planning, IT, website and most areas of operations – all with volunteers from around the world who are willing to share their expertise in short term projects.
"It is a life-saving tool for nonprofits with small staff who need more bandwidth to get projects done," Becky Dinnin said. "The response is overwhelming when you read about how much a nonprofit can save and put that money back into direct services for their clients."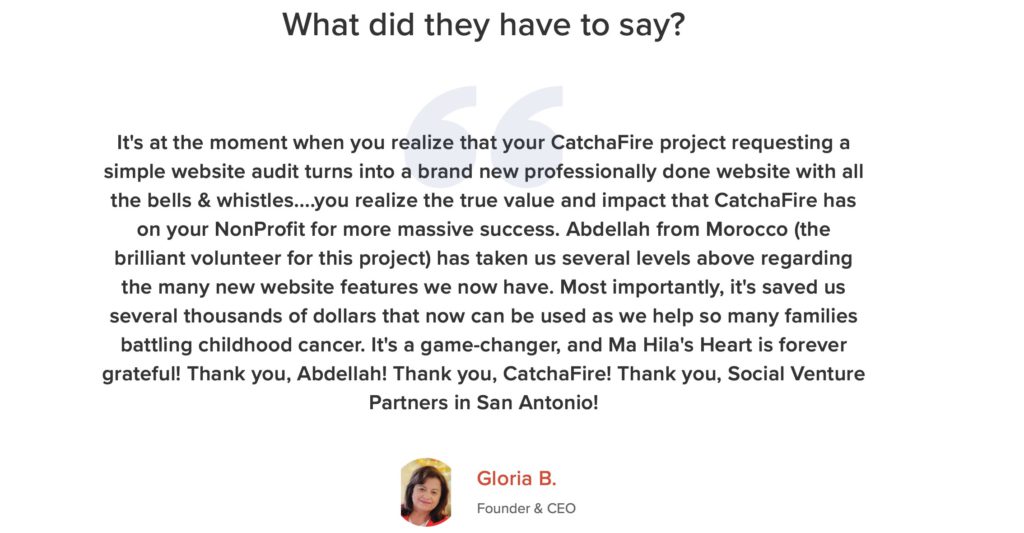 SVPSA hopes to add more nonprofits this year as they continue to get the word out about it.
The types of support that is available is in all operational areas for the nonprofit. When a staff member is looking at their work – there are many things they can delegate to a volunteer when they know they can pick a quality worker with the right skills and begin as soon as they make a selection.
"We have a Program Manager, Debi Pfitzenmaier, who is available to train and work with our local nonprofits to maximize the value," Dinnin said. "Debi is an extension of the support in addition to the Catchafire customer service because we know that she knows many of our local leaders because she also started a nonprofit (Youth Code Jam) and grew it successfully.
To discover what types of volunteer work can be done, The website is www.svpsa.catchafire.org for the nonprofit.
We also encourage employers to consider utilizing Catchafire as a volunteer tool for community volunteer hours. The volunteer site is www.Catchafire.org.
Nonprofits can email SVPSA at [email protected] to request funding for the service, or they can also subscribe themselves.
Our Catchafire Dashboard as of March 30, 2023.