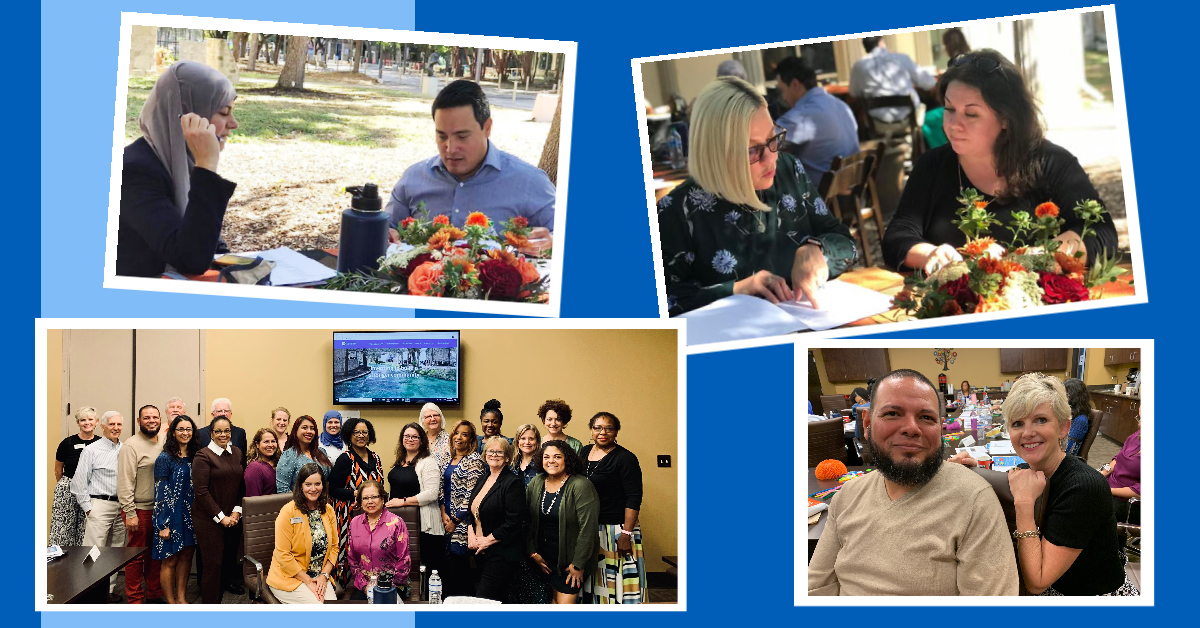 Leadership Development
SVPSA provides workshops, online resources and an annual Fellowship to nonprofit boards, executive leaders and staff.
Our largest program is our annual Fellowship, offered to up to 20 nonprofit leaders desiring to broaden their skillsets. Each September, a new class is selected and provide six days of intense workshops on nonprofit essentials including leadership, financial management, HR, fundraising, and marketing and communications. They are introduced to the SVP network and provided one on one consulting support from our partners.
Capacity Building
We help nonprofits develop core skills, in leadership, strategy, board management, and operations so they can strengthen their effectiveness, sustainability and ability to fulfill their mission.
Each fall, Social Venture Partners San Antonio puts together a collaboration with other area funders and provide sponsorships for an online capacity building tool, Catchafire. This incredible online skilled volunteer program is available all year to 125 nonprofits through these funders.
With Catchafire, nonprofits select projects they need expert help with and post those projects to be viewed by more than 100,000 volunteers around the world. The nonprofit staff can select the best volunteer from this pool of talent and begin interviewing and working with them on their task.
The value of the nonprofit support from volunteers has saved San Antonio more than $1,000,000 in just the first 18 months of use. These are tasks that require skills that either the staff would accomplish, or they would hire a consultant.
There are hundreds of project templates and ideas. The most common projects to get pro-bono help include:
Translation

Graphic Design

Video Editing

Board Strategy Facilitation

Financial Policy Templates

Writing Job Descriptions

Social Media Calendars and Audits

Writing Content for Website, Emails and Thank You Notes

IT Training on software

Website Design

Event Planning

Fundraising Letters, Campaign Strategy
Volunteer Expertise
Our model of giving back includes sharing expertise. Our volunteering isn't just as board members - it means providing one on one help to nonprofits in the area our partners have worked. It might be financial management, human resources, as executive leaders, marketing and PR specialists, grant writers, attorneys, professors, and so on.
Partners with Social Venture Partners regularly offer their expertise to nonprofits we have met through the Fellowhship and Catchafire. If you need help in an area that you just can't staff or want to talk with one of our partners about a new strategy or challenge. Please contact us at the links below.
Our Approach
Offer Resources. Social Venture Partners San Antonio builds organizational capacity by providing general operating funds, skilled volunteers, professional consultants, and leadership development/management training opportunities.
Listen. We recognize that nonprofit practitioners are the program experts, and we aim to complement that expertise by working in partnership with those organizations. Therefore, the first step is listening to what they need.
Provide Tools. Our Investees use assessment tools that best suit them as the first step in mapping out a plan. These assessments help the investee identify and prioritize the capacity building areas where they want to focus their efforts. Then SVPSA provides a Lead Partner to work with that nonprofit to develop a strategy and plan for growing their capacity based on their capabilities, at their pace. We are able to provide skilled professional help in many areas, including:
Mission, Vision, Strategy and Planning
Board Leadership and Governance
Leadership Development
Financial Management
Information Technology
Marketing and Communications
Program Outcomes and Evaluation
Human Resources
Legal Affairs
Fund Development
Government Relations