by Rachel Burstein
Case Study on SVPSA Fellowship
Jasmin Dean, Executive Director at Celebrate Dyslexia
Jasmin Dean, founder and executive director of Celebrate Dyslexia, always dreaded filling out Form 990, the annual filing that the IRS requires of nonprofits and charities. Dean saw the 990 as a distraction from the mission-critical work that she was doing to create community, offer resources and provide support for dyslexic students, their families, and the educators who serve them.
When her own son belatedly received a diagnosis of dyslexia half a decade ago, Dean found that existing support programs centered on hiring lawyers and addressing problems with standardized testing. Missing for Dean were spaces "to celebrate the potential that our [dyslexic] kids have." It was that experience—not the possibility of filling out forms—that spurred Dean to create Celebrate Dyslexia.
But as a participant in SVPSA's Fellowship program to provide leadership development around nonprofit operations, Dean's thinking about the Form 990 suddenly changed. SVPSA Partner Jeannie Frazier tough a workshop on the 990 and told the class that the 990 "should tell a story." Dean describes that insight as "a game-changer," empowering her to "embrace that aspect of running a nonprofit instead of carrying that on as a burden."
As a result, Dean now thinks of her annual tax filings as a continuous story where she can demonstrate the growth of her organization from an all-volunteer group to possessing a three-year, board-approved budget that supports a contractor, phone, internet, and other things necessary for delivering on Celebrate Dyslexia's mission.
SVPSA Fellowship advisers also urged Dean to raise funds and develop a budget that includes a salary for the executive director in order to plan for succession and ensure the sustainability of the organization. Dean hopes that narrative will appear in next year's 990.
The SVPSA Fellowship experience has transformed how Dean thinks about operational leadership. Through the SVPSA Fellowship, Dean found that solid financial management, thoughtful strategy, careful board development, and command of a range of other operational areas are key to delivering on Celebrate Dyslexia's mission. "It turned into, if I really care about this service, then I have to set the systems in place so that it can carry on, and it can be available, and we can build capacity through that," she says.
Through the SVPSA Fellowship, Dean also developed the relationships necessary to put Celebrate Dyslexia on a path to long-term sustainability. It wasn't just the people that she met through the program—the experts who presented sessions on nonprofit financial statements and articles and bylaws; the business and community leaders who met with fellows; or Dean's fellow participants who were often struggling with similar challenges—that were important for Dean's development as a leader. It was also the way she began to think about these relationships.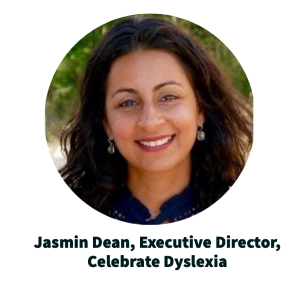 Dean reflects that she now views funders as "partners, not just sources of line item income." She now asks herself, "How can more doors open through this connection and through this relationship?" 
And Dean has come to see the other nonprofit leaders in the SVPSA Fellowship as a braintrust and source of support. "How great is it to know that you're not the only one?," Dean says. "And how great is it to know that other people are experiencing the same type of schedule and the same type of day and the same pain points that we all need to overcome if we're going to do this well?"
Dean's participation in the SVPSA Fellowship is drawing to a close, but she expects the program to be impactful well into the future. "The partnerships and the further collaborations that have come out of this, I think will be long-lived for years to come. Which is really, really exciting."