This month, local nonprofits reported they surpassed $1 million in value from skilled virtual volunteers provided by a local funding cohort started during the pandemic by Social Venture Partners San Antonio (SVPSA). Nonprofits started using the virtual volunteer website, Catchafire, in the fall of 2020, early in the pandemic to help fill critical skills gaps when most offices were shut down and organizations were forced to change how they raised money, delivered services, used technology and communicated with board and donors.
"The pandemic created chaos in all businesses, including nonprofits; so we had to find a way to help nonprofits survive, and provide their programs with fewer or no staff," said Becky Dinnin, SVPSA's Executive Director. "We found a virtual tool that matches professionals from all over the world who want to give nonprofits time and talent in marketing, HR, strategy, fundraising, design, technology and so on."
Catchafire reports that the average nonprofit receives value of $3,000 per project, and they can post as many as they want for the duration of their subscription. The annual rate for San Antonio is $1200 each for 100 organizations.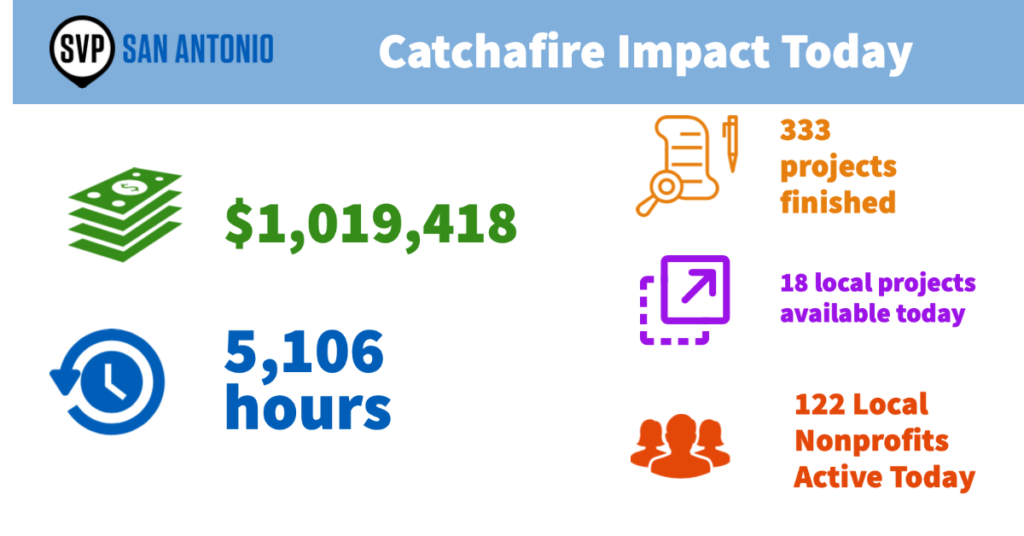 We thought it was too good to be true, Dinnin said. "We tried it out as volunteers with donors who are nonprofit consultants and were surprised to find Catchafire made it really easy to give our time – and they provided an individualized dashboard measuring the dollar value saved if the nonprofit had to hire staff or a contractor. There is no cost for individual volunteers and we thought Catchafire could be a money-saving volunteer option for employers, too."
Still skeptical, Dinnin said she talked to some nonprofits using it and they "raved about how much they love the simplicity. Adding to that, when executive directors reported the value they were saving to board and donors – everyone was thrilled."
The only city in Texas with nonprofits using Catchafire at the time was Austin, and we knew we needed to add San Antonio as soon as we could. We did not have any problem enlisting more funders excited they could leverage a modest gift to get significantly more value back to the community. All we were hearing, Dinnin said, is there was a staff crisis, and everyone needed to know how to use technology in a completely new way. Catchafire could provide some relief at just the right time.
SVPSA raised $105,000 from their individual and corporate donors and grants from DOCUmation, the H.E.Butt Foundation, San Antonio Area Foundation, Methodist Healthcare Ministries and LISC San Antonio. No one organization had to put in more than $25,000.
Suddenly, when it launched in September 2020, we started to see the value return to the community quickly. Buy the end of the first quarter, the value had surpassed the initial investment of $105,000. By the end of the year, value of the volunteers had increased to $498,000. No funder hesitated to provide it for another year. We sunset 25 nonprofits who did not use it, and added 50 new organizations and three new funders including CapTrust, the San Antonio Area African American Fund and the Nancy Smith Hurd Foundation. By May 25, 2022, we reached a total of $1 million in value, and that number continues to go up.
Every volunteer and nonprofit are encouraged to give feedback. Read what nonprofits are reporting:
Celebrate Dyslexia has used Catchafire for 26 projects and has received $111,554 in value from the volunteers. See their impact page here.
To prepare for the Fall Rollout, nonprofits are invited to sign up to request the sponsorship for the next year. All nonprofits that have received their approval from the IRS as a 501(c)3 organization in the area can request to be considered by clicking here.